Ready For The 2003 Season!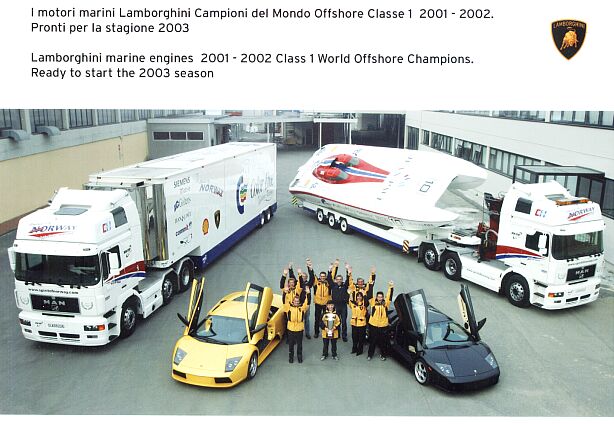 Lamborghini marine engines, 2001 and 2002 Class 1 World Offshore Champions and also Champion title holders in the "100 Miglia del Lario" and in the Water Skiing European Championship, are ready for the 2003 season which will commence in upcoming Spring.
At least ten of the boats will be powered by Lamborghini's 12 cylinder engines amongst which is "Spirit of Norway" - 2002 World and European Champion.
For the first time there will also be an Australian team, BBC Racing Pty, taking part in the Championship. The opening Championship race will take place in Lisbon (Portugal) on May 18th 2003.
Sant'Agata Bolognese, 12 December 2002
---
World Offshore Championship:
Pole Position for Spirit of Norway
Lamborghini Team Claims 2003 European Championship
Spirit of Norway, the official Lamborghini powerboat piloted by Bjorn Gjelsten and Steve Curtis, secured the 2003 European Champion title at the Color Line Scandinavian Grand Prix, Held on 6 July in the waters around Oslo.
This was the fourth round of the Superfund Class 1 World Powwerboat Championship at which Spirit of Norway secured pole position before going on to win the race and the European championship title. The Anglo-Norwegian Italian-powered team of Gjelsted and Curtis have taken the European element of the world series with four rounds of the competition still to go. The duo also leads the special 'pole position' classification as well as the world championship with 75 points - 24 points ahead of the second placed team.
It's the third time in six years that Spirit of Norway has been awarded the European championship title.
Spirit of Norway's European championship win again confirms the power and reliability of Lamborghini's 12-cylinder engine, which is built and developed at Automobili Lamborghini's premises in Sant' Agata Bolognese.
Sant'Agata Bolognese, 18 August 2003
---
Superfund Class 1 World Powerboat Championship
Spirit of Norway, powered by Lamborghini, takes its fourth
win of the season at the Austrian Grand Prix
Yet another success for the Lamborghini engines and for Spirit of Norway in the "Superfund Class 1 World Powerboat Championship 2003".
In the fifth competition which tool place on Lake Traunsee in Austria from 12 to 14 September last - Bjorn Rune Gjelsten and Steve Curtis have been awarded the fourth success of the season with their white 13.4 metre-long composit material, Lamborghini-powered boat. Spirit of Norway has already secured the 2003 European Championship and also the special award for Pole Position.
The next appointment is scheduled on 25 October in Doha, Qatar.
Sant'Agata Bolognese, 15 September 2003
---