LAMBORGHINI AND BLANCPAIN: THE PERFECT PARTNERSHIP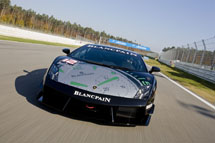 The world's oldest luxury watchmaker Blancpain has been announced as title sponsor of the new Lamborghini one-make racing series, now named the Lamborghini Blancpain Super Trofeo. This union of the brands brings together the finest in automotive and timekeeping engineering, ahead of the inaugural race at Silverstone, UK, on 2/3 May.

Since 1735, Blancpain has produced innovative timepieces from its home in the Vallée de Joux, Switzerland. Each watch is made by a single horologist, reflecting the quality and individual attention given to building each Lamborghini road car as well as the 570 hp Super Trofeo race car.

The all-wheel drive series will visit iconic circuits such as Silverstone, Spa-Francorchamps and Paul Ricard. It will run alongside the best in sportscar racing including FIA GT and Europe's premier touring car series, DTM.

"This is an intensely dynamic partnership of two very different businesses, with the same drive for innovation and mechanical prestige," said Marc A. Hayek, President and CEO of Blancpain. "In my mind, Blancpain has always been rather revolutionary…a little bit crazy, a bit of an adventurer. We have always tried to be different, to become more innovative, to try things that have not been attempted or been achieved in the past.

"We have only ever worked with the very best materials and craftsmen, and the pursuit of excellence is a passion that both Blancpain and Lamborghini hold dear," continued Hayek. "Because Lamborghini is unmistakably a high performance manufacturer at the pinnacle of precision engineering, the Lamborghini Blancpain Super Trofeo is an ideal platform for further extending our brand to a worldwide audience."

"Lamborghini couldn't be happier to have an association with Blancpain, a company synonymous with enduring style, quality and genuine exclusivity," said Lamborghini's Director for Brand and Design, Manfred Fitzgerald. "Both parties will undoubtedly benefit from the joint venture. Both brands are passionate about looking after every hundredth of a second: we share very strong brand synergies, Blancpain are a great asset, and we look forward to the season ahead."

Notes to editors

The Lamborghini Blancpain Super Trofeo will debut in May 2009 featuring the Lamborghini Super Trofeo: a lightweight version of the Gallardo LP 560-4. The Super Trofeo will come with a reworked chassis and a power output of 419 kW (570 hp) from its V10, 'Iniezione Diretta Stratificata' engine. The race car will feature Lamborghini's permanent four-wheel drive, making the Super Trofeo the only one-make, all-wheel-drive motorsport series.

Luxury Swiss watchmaker Blancpain is title sponsor. The Lamborghini Blancpain Super Trofeo will run over six European race weekends, alongside other prestigious series such as the FIA GT Championship and DTM. Either one or two drivers per car can register for the series, comprising of free practice and a qualifying session, and three 40-minute races during the race weekend.

The first race weekend of the 2009 provisional calendar will run on 02-03 May at the Silverstone circuit in the UK, followed by Adria in Italy on 15-16 May; Nuremburg's Norisring in Germany on 26-28 June; Spa in Belgium on 23-25 July; Barcelona's Circuit de Catalunya in Spain on 19-20 September; and culminating on 03-04 October at Paul Ricard, France.

For more information visit the Lamborghini Blancpain Super Trofeo website www.lamborghini.com/supertrofeo.
For high-resolution images and further media enquires please do not hesitate to contact the media team on media.supertrofeo@lamborghini.com.