Supercar Murcielago With EAGear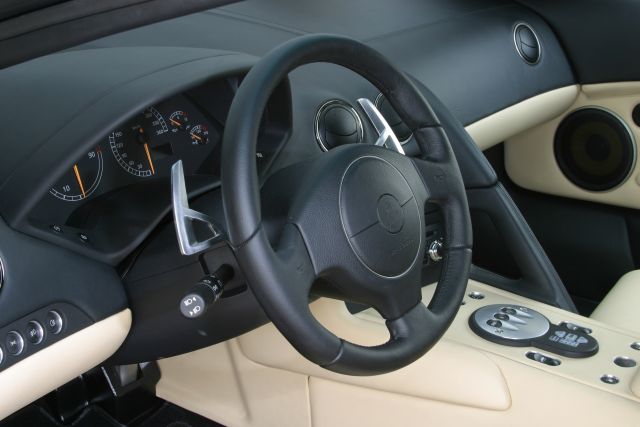 At the 2003 edition of the Frankfurt Motor Show, Lamborghini unveiled the Murcielago eAgear, a robotized gearbox with electronically controlled sequential shifting system. In comparison to the standard manual shifting version, the shifting system itself is completely substituted by electro-hydraulic units controlled by a dedicated ECU.
This ECU operates with sophisticated software strategies specially conceived for Murcielago, based on the inputs received from sensors on the clutch and the gearbox, together with data exchanged with the Engine Management System and Traction Control System. Obviously the clutch pedal is gone.
Actuating two pedals on the steering column (up/down shifting) and a button on the left side of the dashboard (reverse) the driver just gives the ECU the input of the desired shifting. The ECU will provide optimized shifting based on the actual driving conditions. Two main operating modes can be selected by two buttons in the center console: Normal (as a default mode) and Sport (for faster and more dynamic shifting). An additional "low adherence" mode can also be selected for safe driving in extremely low adherence / traction conditions.
The advantages or the eAgear system can be summarized as follows:
The system maintains all the positive features of the mechanical parts of the transmission: dry plate clutch, reduced weight, high mechanical efficiency

It guarantees constantly precise and fast shifts with optimized driving performance, in general better than what is achievable by a good driver with a traditional manual shifting system. For instance, during downshifting an optimal "double clutching" is realized, depending on the actual gearbox axles speed difference.

Thanks to its electronic control, the system prevents possible wrong driver's requests (for example, it avoids downshifting when that would generate engine over speed). In addition, as a driver's aid, a controlled automatic downshifting is performed when the engine rpm's fall below the acceptable thresholds.
The Murcielago eAgear will be available in the market near the end of 2003.
---